Cooking With Hardwood Charcoal
Cooking with hardwood charcoal is a popular choice among grilling enthusiasts and professional chefs due to the unique flavor and superior heat it provides. Here are some key points to consider when cooking with hardwood charcoal: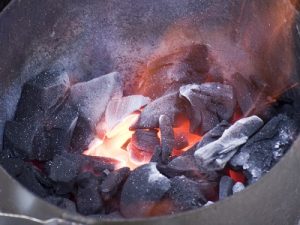 Flavorful results: Hardwood charcoal imparts a distinct smoky flavor to food, enhancing the taste and creating a desirable charred exterior. It adds depth and complexity to grilled meats, vegetables, and even fruits.
High heat output: Hardwood charcoal burns at high temperatures, allowing for excellent searing and creating a beautiful crust on steaks, burgers, and other grilled items. The intense heat helps lock in moisture and promotes caramelization.
Longer burn time: Compared to other fuel sources, hardwood charcoal has a longer burn time, making it suitable for extended cooking sessions or slow-cooking techniques like smoking. This ensures consistent heat throughout the cooking process.
Even heat distribution: Hardwood charcoal provides even heat distribution, resulting in more consistent cooking. It allows for precise temperature control, enabling you to adjust the heat according to your desired cooking technique and food requirements.
Versatility: Hardwood charcoal is suitable for various cooking methods, including direct grilling, indirect grilling, smoking, and even baking. It accommodates a wide range of dishes, from juicy steaks and burgers to delicate seafood and vegetables.
Natural and chemical-free: Hardwood charcoal is typically made from natural wood, without additives or chemicals, providing a cleaner and more authentic grilling experience. It is a preferred choice for those who prioritize natural cooking methods.
Responsibly sourced: Look for hardwood charcoal that is responsibly sourced from sustainable forests to support environmental conservation efforts. Opting for charcoal with certifications like FSC (Forest Stewardship Council) ensures that it comes from responsibly managed forests.
When cooking with hardwood charcoal, it's essential to have proper ventilation, follow safety guidelines, and monitor the fire carefully. Experiment with different types of hardwood charcoal, such as oak, hickory, or mesquite, to explore distinct flavors and find your personal preference. Enjoy the unique experience of cooking with hardwood charcoal and savor the delicious results it brings to your dishes.